Build a Backyard Basketball Court
Building your family's game court is a fun and manageable endeavor. Most of our customers involve the whole family in the process and look at their courts proudly of something they built together. With a bit of thought, planning and determination, you'll be playing on your dream court in no time.
Are you looking/dreaming of an small backyard basketball court or a full-size multi-court, but don't think you can afford one? If you're a do-it-yourselfer who's up for an easy challenge, then it's "game on!"
Dunkstar® is the easy-to-install Basketball Court and Multi-Game Court made for the whole family. It's also the most affordable. So, whether you want a safe place for your kids to play or to get them outside (and out of your hair) for some healthy exercise, a Dunkstar DIY Backyard Basketball Court is the way to get you playing where you live.
DIY Court Installation Guide
You can easily install Dunkstar Courts over most solid subsurface. Our patented, time-tested, interlocking court tiles snap together quickly and simply—you just need to spot the difference between a female loop and a male peg. You don't need special tools or messy, smelly glues, just a concrete pad. But don't panic! We have specific and simple concrete specs to follow.
So, stop looking for the right court for you and start playing on a Dunkstar Basketball or Multi-game Court. And don't forget to invite your neighbors.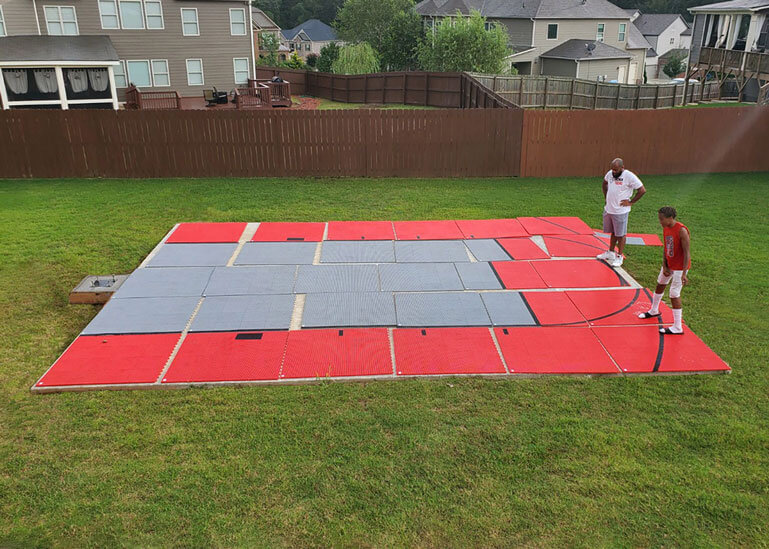 Don't miss out on extraordinary deals–subscribe now and be the first to snag incredible discounts!