ABOUT DUNKSTAR
DIY COURTS
DIY Backyard Basketball Courts
Dunkstar is the premier manufacturer of American's favorite family Basketball and Multi-Game Courts for a reason: we've been engineering outdoor game courts for more than 40 years. Our multi-patented and patent-pending designs deliver a surface that gives you superior performance whether you're practicing or playing for good, healthy family fun.
Each Dunkstar tile features superior UV protection for long-lasting outdoor color performance, aesthetically engineered seamless design, and quick drainage during wet weather. Plus, if you have cracked concrete or a stained subsurface, Dunkstar surfacing is a cost-effective backyard home improvement.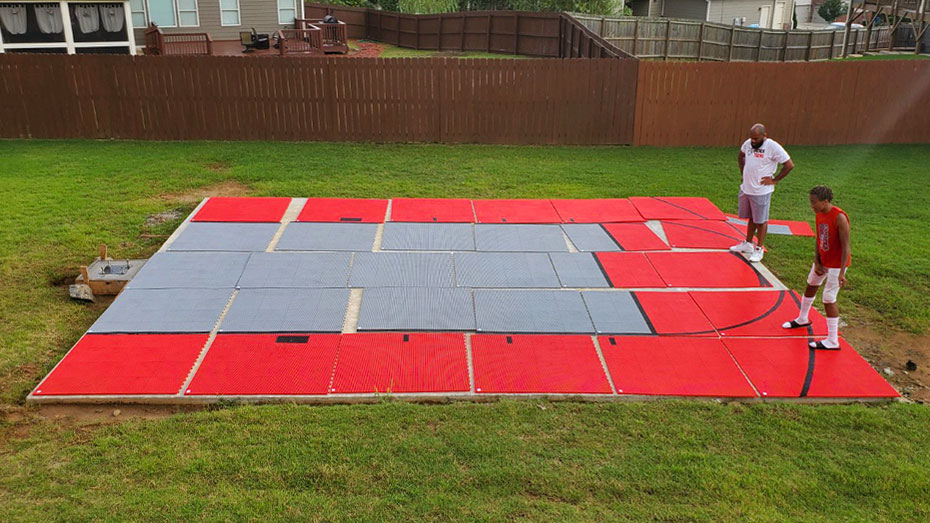 DIY Court Installation Guide
You can easily install Dunkstar Courts over most solid subsurface. Our patented, time-tested, interlocking court tiles snap together quickly and simply – you just need to spot the difference between a female loop and a male peg. You don't need special tools or messy, smelly glues, just a concrete pad. But don't panic! We have specific and simple concrete specs to follow.
So, stop looking for the right court for you and start playing on a Dunkstar Basketball or Multi-game Court. And don't forget to invite your neighbors.